A few years ago I was introduced to the magical world of 'aquascaping'. What is aquascaping you ask? Well, it's basically underwater gardening that makes you drool with wow. Your task is to make the most beautiful, artful, and yet functional living space for aquarium inhabitants. So, while the foremost aspect is to create a breahthtaking enviroment, every technical aspect has to be controlled as well. That means everything from filtration, to maintaining carbon dioxide levels to support underwater photosynthesis, to lighting and algae control are all part of the intricate process. It can take months to complete the final design.
These are some of my favorite aquascape designs, many of which are from the International Aquatic Plants Layout Contest (IAPLC). Warning: you might have to pinch yourself as a reminder that these are simply underwater worlds.
Charm of Light by Timucin Sagel of Istanbul, Turkey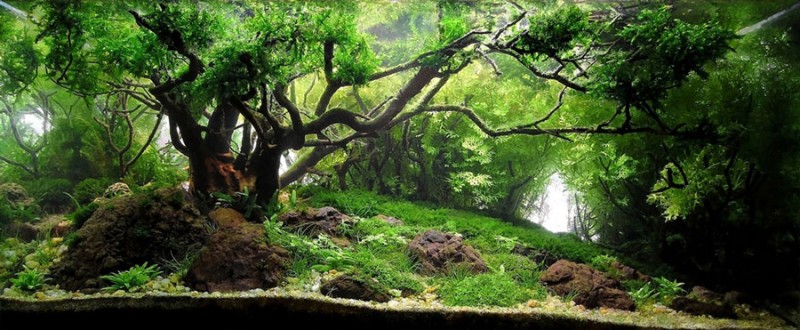 This 270 liter tank is pictured at 5 months of growth.
Wild West designed by Stjepan Erdeljić of Djakovo, Croatia

This 160 liter tank is pictured at 5 months of growth.
After the Rain in Mountain, designed by Katsuki Tanaka

Pilgrimage, designed by Shintaro Matsui

Pandora (the land of flying sparks): designed by Marko Velikonja of Slovenia

This 450 liter tank contains small floating islands made of lava stone and epoxy resin.
Way to Heaven: designed by Dmitriy Parshin of Moscow, Russia

This 600 liter is pictured after 9 months of growth.
Whisper of the Pines: designed by Serkan Çetinkol of Istanbul, Turkey

This 150 liter tank is pictured after 4 months of growth.
Stairway to Heaven: designed by Timucin Sagel of Istanbul Turkey

This is a 270 liter tank.
Forest Scent, Pavel Bautin

Morning Forest designed by Pavel Bautin of Saint Petersburg, Russia

A 400 liter tank shown after 6 months of growth.
"Our Preciousss…" A Hobbit house concept by Akvaryum Dizayn Istanbul

What do you think? Do you want to get into the hobby of aquascaping? Let me know in the comments!